The following is a Guest Post by California Republican Congressman Kevin McCarthy, co-author of the best-selling book "Young Guns: A New Generation of Conservative Leaders."
---
Support Mike Fitzpatrick for Congress in Pennsylvania's Eighth Congressional District
Republicans winning over independents and Reagan Democrats are crucial to our party's chances of earning a majority in the House. With Republican Mike Fitzpatrick running we have a great chance to win Pennsylvania's Eighth Congressional District.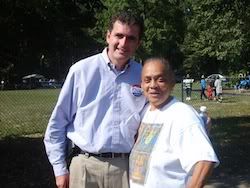 George Will describes the district as having "about 209,000 Democrats, 189,000 Republicans and 66,000 independents."
Will notes Congressman Patrick Murphy decided to not reflect the center-right nature of the district by siding with Nancy Pelosi 97% of the time on such bills as the failed stimulus, the government takeover of health care, cap-and-tax, and "card check." Last night, Byron York wrote that 50% of the public have a negative opinion of Nancy Pelosi–an all-time high for her. Murphy's support of Pelosi is out of touch with his constituents.
This makes for a clear contrast with Mike. Will writes,
[Mike Fitzpatrick] favors extending all the Bush tax cuts and rescinding to the Treasury all unspent TARP and stimulus funds.
Mike is listening to the voters in his district, so it's no surprise he is leading in the polls.
I know this Young Gun candidate has what it takes to reach out to Republicans, independents, and conservative Democrats in his swing district. Check out Mike's website and his Facebook page. Then let me know what you're doing to help Mike get elected.
Thanks,
Rep. Kevin McCarthy
---