Attorneys for ESPN sportscaster Erin Andrews have promised to bring charges against the person who shot nude video of her through a hotel room peep hole and uploaded it to the Internet.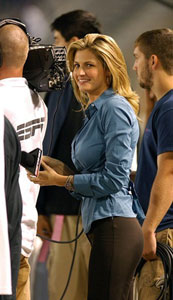 Although the original video has since been removed, it still appeared in Google's cache and on multiple web sites as of Saturday morning.  Other versions have been linked to from different sites as of Saturday evening.  On Sunday, various sites reported that the video could be viewed via file hosting sites like Rapidshare, although copies seemed to be removed as quickly as they were shared.
Total Pro Sports, a site which linked video in question, reports that a lawyer for ESPN first threatened Deadspin's Doug Sheckler via email after the site embedded the video via a web site called NSFWPOA.com. Lawyers for ESPN did not mention Andrews in the email message.
I am the General Counsel of ESPN, Inc. It has come to my attention that you have posted on your site pictures of a young, blonde woman at http://www.nsfwpoa.com/2009/07/hot-naked-blonde-who-looks-lot-like.html. These pictures were obviously taken through a peephole or otherwise in a fashion constituting a trespass/assault on the rights of the woman involved. Your continued posting of these pictures are highly likely to render you an accessory after the fact to a criminal act. We hereby demand that you (i) immediately remove these pictures from your site and (ii) disclose to us the source of the pictures. We intend to hold you fully responsible for further display of material that so obviously violates the law.

Please confirm by return e-mail that you intend to comply with these demands. In the absence of such confirmation we will assume you are an active and willing participant in these acts.

David Pahl
Confirmation that the woman in the video was Andrews came via a Press Release from her attorneys.
LOS ANGELES, July 17 /PRNewswire/ — With respect to recent Internet postings of Erin Andrews, she has authorized her attorney, Marshall B. Grossman of Bingham McCutchen LLP, to issue the following statement:

"While alone in the privacy of her hotel room, Erin Andrews was surreptitiously videotaped without her knowledge or consent. She was the victim of a crime and is taking action to protect herself and help ensure that others are not similarly violated in the future. Although the perpetrator or perpetrators of this criminal act have not yet been identified, when they are identified she intends to bring both civil and criminal charges against them and against anyone who has published the material. We request respect of Erin's privacy at this time, while she and her representatives are working with the authorities."
Fans elected Andrews "Playboy's 2009 Sexiest Sportscaster" in a web poll, the second year in a row she received the honor.
UPDATE:  Hackers Use Fake Erin Andrews Nude Hotel Peephole Video To Install Malware