The faltering economy created by Barack Obama's failed policies grew at a dismal annualized rate of 1.3% in the second quarter of 2012, which is a downward revision from the pathetic 1.7% the government had previously predicted.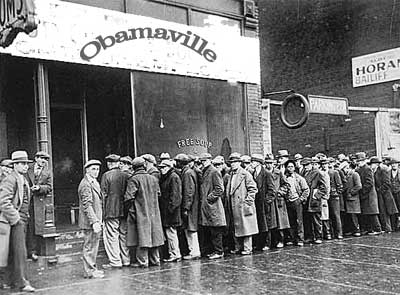 In addition to poor farm production due to the drought (headwinds!), consumer spending and exports were down.
UPDATE: I'm reminded that, despite Obama's excuse making for this poor Q2 number, the drought actually began in July (Q3) and is not reflected in these numbers.
Orders for durable goods, items with a life of three years or more, fell more than 13% in August, which is the steepest collapse of this measure since the recession began.
The Commerce Department said on Thursday durable goods orders dived 13.2 percent, the largest drop since January 2009, when the economy was in the throes of a recession. Orders for July were revised down to show a 3.3 percent increase instead of the previously reported 4.1 percent gain.

Economists polled by Reuters had expected orders for durable goods — items from toasters to aircraft that are meant to last at least three years — to fall 5 percent.
Oh, yeah, and another 359,000 people filed first time unemployment claims last month, too.
At least the folks at the AP wire have their priorities straight.
A weak economy and high unemployment could hurt President Barack Obama's re-election chances and bolster Republican nominee Mitt Romney's campaign.
Maybe Obama can lobby some pollsters to skew the data in a way favorable to our failure of a president.