Failed President Barack "Double A-Plus" Obama will make a statement regarding the credit downgrade his wild spending has caused at 1PM EDT.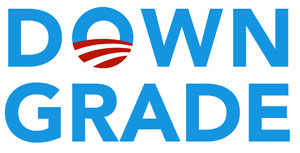 There will be no questions from the press, so Obama will be left to his own devices explaining how corporate jet owners caused S&P to downgrade his credit rating.  Other themes expected to be included in the statement are "it's not my fault" and "no, it's really, really not my fault."
As I sit here daydreaming, I go back and forth between 1PM EDT being a straight resignation and a "If nominated I will not run, if elected I will not serve" speech.