Failed President Barack "AA+" Obama went into hiding Tuesday, canceling a public appearance and having his Press Secretary cancel the day's so-called daily briefing, one day after his remarks on the nation's first credit downgrade precipitated a downward spiral in the stock market.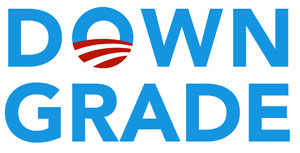 The President hasn't missed a fundraiser or round of golf, though.
Instead of traveling to Springfield, Va.-based Interstate Moving Services and making public remarks on fuel efficiency standards for work trucks, Mr. Obama will meet privately with industry officials at the White House this morning — and that meeting will be closed to the press, the White House announced in a scheduling update Tuesday morning.

In addition, a 12:30 briefing with press secretary Jay Carney has been canceled, the update said.
Wouldn't it be nice if you could just hide from your boss when there was a risk he was going to call you out on your shoddy job performance?