A county source has confirmed to the local media that the state is investigating allegations that former Mercer County Prosecutor Joseph Bocchini, a 40-year "faithful Democrat," sexually harassed female members of his staff over the course of a decade.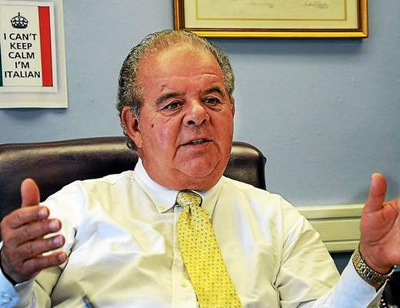 News broke as Bocchini, who retired in 2014, was being honored as citizen of the year by the MidJersey Chamber of Commerce.
We've seen many times in this age of trigger warnings and hysteria that anyone can accuse anyone else of anything. It doesn't mean he did it.  This could be the real deal, or it could be someone out to get this guy or to get something out of the system. We just don't know. Details of the allegations against Bocchini are very thin so far.  This matter was first reported to the media via anonymous letter, which seems a little off if you ask me.
Trenton attorney Robin Lord confirmed late Thursday she represents one of Bocchini's accusers in a civil matter. She called sexual harassment allegations against Bocchini "shocking" and said she expects to file a notice of intent to sue with the county next week.

[…]

"I was recently retained by an employee of the Mercer County Prosecutor's Office who was alleging that she was the victim of long-term sexually inappropriate behavior and harassment by the former county prosecutor," Lord said in an email. "After conducting a preliminary investigation, the results of which were quite shocking, we met with the Office of the County Counsel and informed them of our allegations."
In our post-UVA non-scandal world sexual allegations against men are tossed around pro forma for myriad motives, and this site will always take them with a grain of salt until actual facts emerge.  Right now, the more interesting angle to this story is the behavior of the media, which is already playing "Guess The Party."  We won't let them get away with it.  Here's the background information that appeared in the Trentonian's laudatory 2014 article when Bocchini announced his retirement.
He's been a faithful Democrat for 40 years, starting in 1974 with his job as assistant counsel to the Mercer government and serving as the prosecutor for East Windsor and Robbinsville under its old name of Washington Township.

Bocchini was elected assemblyman for the Trenton-Hamilton legislative district every two years from 1982 to 1988, and served one year as the chairman of the Assembly Law, Public Safety & Defense Committee. He is also a former assistant counsel for the State Senate Democratic Majority.
And here's the background information that appeared in the Trentonian when the allegations were reported.
Bocchini was admitted to the bar in 1974 and served in the general assembly from 1982 to 1988, assuming the county prosecutor office's top post in August 2003. He became the first prosecutor in the county to serve two five-year terms.