Former New England Patriots and San Diego Chargers linebacker Junior Seau was found dead of a gunshot wound at his California home this afternoon.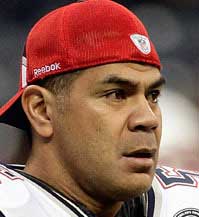 Born Tiaina Baul Seau, Jr in American Samoa, Seau played for the Patriots during the 2007 season, when their first loss was to the New York Giants in the Super Bowl.  He had not officially retired from football, but played his last game during the 2009 season and was inducted into the Chargers hall of fame in 2011.
Seau's All-Pro NFL career spanned 20 seasons. He was drafted No. 5 overall in the 1990 draft out of the University of Southern California, and played 12 stellar years for the San Diego Chargers. He was named an all-pro 10 times and to the Pro Bowl all 12 seasons he was with the Chargers. In 1994, he was named the AFC Player of the Year.

In October 2010, problems in Seau's personal life surfaced when he drove his SUV off an embankment in Carlsbad, Calif., and he was hospitalized with minor injuries.

Seau told police he fell asleep hours after he was arrested on a felony domestic violence allegation and released.
Hmmm…I'd forgotten that part.  Nice guy.
I wonder if that "driving off a cliff" thing was a first attempt.
This is interesting.
Seau's death, by gunshot wound to the chest, is similar to the way former Chicago Bears defensive back Dave Duerson died of suicide. Duerson shot himself in the chest on Feb. 17 — a method used so that his brain could be examined for symptoms of CTE (chronic traumatic encephalopathy), a trauma-induced disease common to NFL players and others who have received repeated blows to the head.