Jani Lane, lead singer of the hair metal band Warrant, is dead at age 47.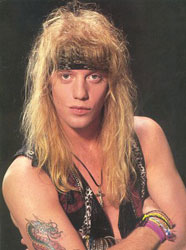 Although constantly described as an "80s band," Warrant was most famous for their 1990 non-classic Cherry Pie.
I probably would not have noted the death here were it not for the fact that my extensive research (Wikipedia) revealed Lane's birth name as John Kennedy Oswald.  That's just weird.
Officer Sara Faden says Lane's body was found Thursday in a Woodland Hills [Los Angeles] hotel. She had no immediate information on the cause or circumstances of his death.

With his long blond hair and tight leather outfits, Lane embodied the excess of 1980s "hair metal" rock bands. He joined Warrant in 1984 and wrote such hits as "Heaven," "Down Boys" and "Cherry Pie."

[…]

In recent years, he appeared in the reality TV show "Celebrity Fit Club" and made news for a drunken driving arrest.
Had it not been for Nirvana revitalizing rock music with the release of Nevermind in late 1991, the puke that Warrant and bands like it were producing by the late 80s and very early 90s would have killed rock music for good.  Every bit as vapid and superficial as anything produced by any teen pop princess today.
Not that it was any real reflection on the artists, I guess.  It was obviously very popular back then and what the labels and public thought they wanted.  Bands like Warrant had tons of hits with sing-song watered down pop metal, so more power to them.