Yikes.  Keith Olbermann has lost another job.  This guy must be a terror.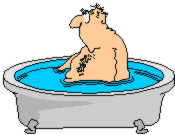 Where do you go when you can't hold your own at Current TV?  Is the Oprah channel less watched than that? When you're too intolerable for the tools at MSNBC and too intolerable for Al Gore…
Olbermann's job is going to a guy most famous for keeping his socks on during sex with whores and also a failed television show.
The New York Times reports on an open letter to Current's viewer(s).
In a letter to viewers, the channel said Friday: "We created Current to give voice to those Americans who refuse to rely on corporate-controlled media and are seeking an authentic progressive outlet. We are more committed to those goals today than ever before.

Current was also founded on the values of respect, openness, collegiality, and loyalty to our viewers. Unfortunately these values are no longer reflected in our relationship with Keith Olbermann and we have ended it." Mr. Olbermann will not be given an opportunity to sign off. Starting Friday night, the former New York governor Eliot Spitzer will replace him at 8 p.m., according to the letter to viewers. His program will be titled "Viewpoint with Eliot Spitzer."