Politico reports that Cumulus, the low-rent corporate radio chain which airs the Rush Limbaugh and Sean Hannity radio shows in several major markets, is likely to drop the popular hosts from its stations because they're unwilling to pay syndicator Premiere the going rate for the shows.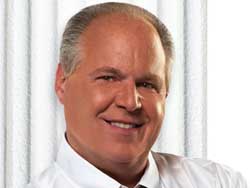 Wildly successful Philadelphia Limbaugh / Hannity outlet WWIQ, owned by Merlin Media, would be unaffected by any of this.
The move, which kind of smells like a negotiation tactic, is reportedly scheduled for the end of 2013.  Cumulus CEO Lew Dickey should talk to someone over at low-rated former Limbaugh / Hannity outlet WPHT-AM, which has seen its ratings crash since dropping the shows in favor of low-energy local "talent."
As industry insiders caution, Cumulus and Clear Channel have come to the brink before during contract negotiations only to resume talks. But the source told POLITICO that Clear Channel was unlikely to reduce the cost for distribution rights to a level that would satisfy Cumulus.
It's not even clear whether Limbaugh would be willing to remain with Cumulus. Earlier this year, Limbaugh's camp indicated the host was considering forbidding Cumulus from running his show because the company's CEO had blamed the "Sandra Fluke" witch hunt against Limbaugh for the company's overall poor earnings.
Even if Cumulus were to stop carrying Limbaugh and Hannity, their shows would be picked up by a Clear Channel station in each market. Syndicator Premiere is a wholly owned subsidiary of radio giant Clear Channel.
Premiere, which did not immediately respond to a request for comment on Sunday night, is expected to carry Limbaugh and Hannity on stations in many of the markets where they are currently signed with Cumulus, should the negotiations not go through. A spokesperson for Limbaugh was not immediately available for comment; Hannity did not immediately respond to a request for comment.