New Jersey Senator Cory "Dumber Obama" Booker, the attention whore who will break with tradition today and testify against fellow Senator Jeff Sessions as the next Attorney General on the basis of made-up racial grievances, praised Sessions less than one year ago when the pair teamed up to give an award to civil rights activists.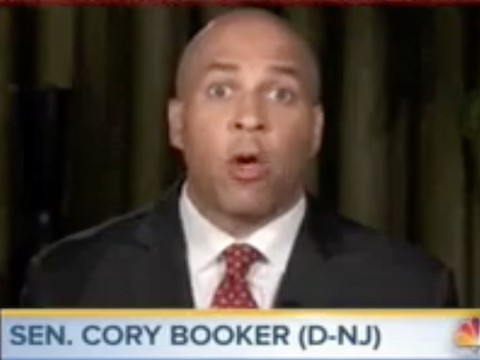 Dumber Obama said he was "honored" to have teamed up with Sessions in awarding the Congressional Gold Medal to the 1965 civil rights "foot soldiers."  Video below.
WASHINGTON — On Wednesday, February 24, leaders of the U.S. House and Senate will present a Congressional Gold Medal in honor of the Foot Soldiers of the 1965 Voting Rights Marches, a group of men and women who peacefully marched from Selma to Montgomery in protest of the denial of their right to vote.

In early 1965, as part of Dr. Martin Luther King Jr.'s movement to register African American voters in the South, peaceful activists attempted a march from Selma, AL, to Montgomery, AL. After multiple attempts met with heavy and violent resistance by authorities, including the marches infamously known as Bloody Sunday and Turnaround Tuesday, nearly 8,000 Foot Soldiers safely arrived at the Alabama State Capitol, bringing national attention to the struggle for voting rights. This served as a catalyst for the Voting Rights Act of 1965, which was signed into law later that year.
Now that the hot lights of national attention are on the Sessions confirmation hearing, however, dimwitted Booker is singing a different tune.
Booker called Sessions' record "concerning in a number of ways," citing his opposition to bipartisan criminal justice reform and immigration reform, criticism of the Voting Rights Act and his "failure to defend the civil rights of women, minorities, and LGBT Americans."