The race pimps of the Congressional Black Caucus have rehung in the Capitol building a painting that portrays a police officer with a pig face.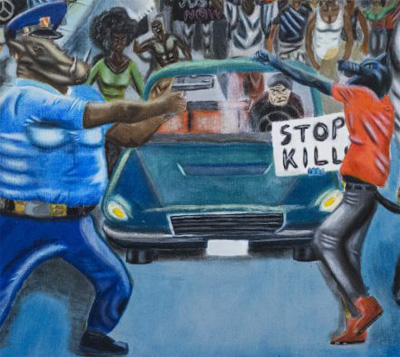 Obama's intentional racial division of the country expires in just 10 days.  This disgusting painting is his legacy.
The offensive painting was painted by a high school student and won an "art" contest run by MO Democrat Representative Lacy Gray, who hung the painting in the Capitol in June.  It was removed by CA Republican Representative Duncan Hunter, who found it offensive, last week.  Gray and the Congressional Black Caucus held a ceremony to rehang the painting a few minutes ago.
Law enforcement groups had strongly objected to the painting's display on the Capitol complex grounds, with one group calling it "reprehensible, repugnant and repulsive."

After the piece was removed Friday, Ron Hernandez, president of the Association for Los Angeles Deputy Sheriffs, said in a statement they were "very pleased."

He said: "At a time of our country facing rising crime and a shortage of those willing to work the streets as police officers and deputy sheriffs, we need to make it clear that depictions of law enforcement officers as pigs in our Nation's Capital is not acceptable."