Having ridden the movie star / political figure gravy train to the end of its line, Maria Shriver has moved out of the Brentwood mansion she shared with Arnold Schwarzenegger, and the couple has announced their separation.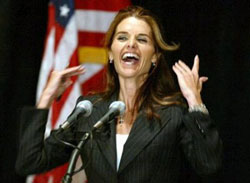 There will be no more blockbuster action movies, all that money has already been made, and a politician who is not a natural born citizen can't go much further politically than governor.  That's recently completed. Time to cash in.
She's Kennedy kin.  They make it any way they can.
Shriver has been residing apart from the actor-turned-politician for the last few weeks. The former first couple confirmed the separation in a joint statement released Monday after questions from The Times.

"This has been a time of great personal and professional transition for each of us," the statement read. "After a great deal of thought, reflection, discussion and prayer, we came to this decision together. At this time, we are living apart while we work on the future of our relationship.
She stuck around through all the alleged groping and womanizing. There was still cash on the table.
Over the years, the marriage between the international celebrity and the daughter of the Kennedy dynasty has come under close scrutiny, especially during the 2003 recall of Gov. Gray Davis, when The Times reported on Schwarzenegger's lengthy history of groping women. At the time, Shriver defended her husband, helping lift him to victory in the free-for-all contest.
Shriver started looking for a way out as soon as Schwarzenegger's term was over.
The two celebrated their 25th wedding anniversary on April 26, a day they let pass without public comment, in contrast to their usual stream of commentary in various social media.