Tell me some more about "tone."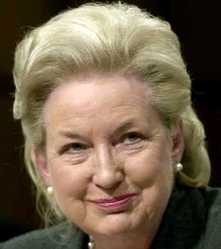 Presumptive GOP nominee Donald Trump's older sister is the latest member of his family to receive a threatening letter hoping to intimidate Trump into ending his presidential campaign.
Maryanne Trump Barry, a federal appeals court judge, received the letter just one day after Trump's son Eric received a similar letter.  Eric's letter contained a suspicious white powder.
Ted Cruz, who is running a distant second to Trump for the Republican nomination, has specifically attacked Trump's sister during the campaign, calling her a "radical pro-abortion extremist."
Cruz has previous excused instances of violence against Trump and his supporters, saying that "[I]n any campaign, responsibility starts at the top. Any candidate is responsible for the culture of a campaign. And when you have a campaign that disrespects the voters…you create an environment that only encourages this sort of nasty discord."
Speaking of the responsibility for "nasty discord" starting at the top, I wonder where the idea to target Trump's sister started.
Trump Barry, a 78-year-old judge with the U.S. Circuit Court of Appeals for the 3rd Circuit, was the subject of some scrutiny earlier this year when Trump mentioned her in jest when asked about whom he would appoint to the Supreme Court.
Although Cruz has raked Trump's sister over the coals, Trump has never mentioned Cruz's sister, a drug addict and criminal who died from an overdose.