According to TMZ and The Hollywood Reporter,  American Idol Top 12 finalist Jermaine Jones has been disqualified from the show for concealing two 2011 arrests from the show's producers.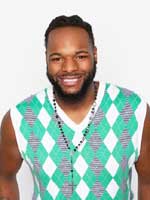 The sites report that one arrest was for a violent crime, and that the singer gave false names to police during each arrest.
Jones is also reported to have outstanding warrants for his arrest.
Jones, called the "Gentle Giant,"  was brought back to American Idol and given a "second chance" after initially not making the cut to move on to the finalist round.  He appeared to confirm his imminent departure from the show via his Twitter account before deleting the tweet.

His entire Twitter account has since been deleted.
Jones departure will pan out in dramatic fashion on Wednesday night's broadcast.

Fox had no comment.