Let not your heart be troubled, Philadelphia.  Brand new FM talker 106.9 has picked up the call letters WWIQ, and launched with around-the-clock broadcasts of Sean Hannity.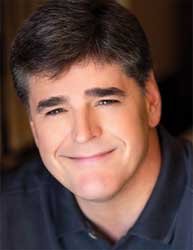 The station also launched the web site http://www.hannity1069.com, where they've announced that they are "All Hannity, All The Time."
The end of the world? No, it's just the beginning of All Sean Hannity, all the time.

Thanks to all the Philly-area radio professionals tuning in!
106.9 is currently playing R.E.M.'s "It's The End of The World As We Know It" on a loop, in an apparent winking reference to former station owner and zealot Harold Camping, who regularly predicted the end of the world.  They are teasing an event at noon ET, which I'm guess is the beginning of "All Hannity" programming.
Rush Limbaugh is expected to join Philadelphia's new and, no doubt, instantly dominant talk station sometime in the next few months, as soon as he can get a lifeboat from the sinking WPHT 1210 ship.
[Station Owner] Merlin [Media] has also dropped MAJOR hints on the branding of its new station. Domain registrations have been made for IQ1069.com and IQ1069FM.com. A matching Twitter account is live @IQ1069, but most importantly Merlin made a request for the WWIQ calls on March 19.